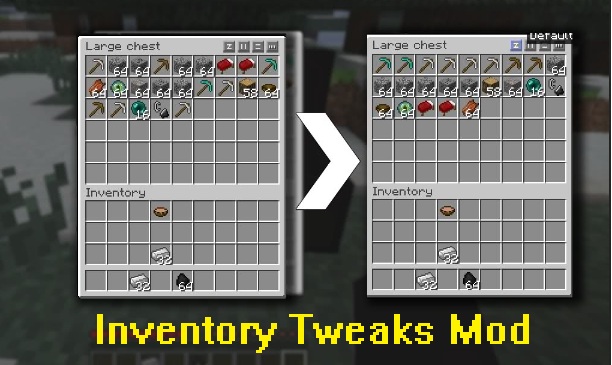 Inventory Tweaks is now officially released and available for download. Inventory Tweaks 1.4.2 is a modification for Minecraft which allows you to easily manage your items inside your inventory. This mod works for both Single and Multiplayer and sorts/replaces your items in stacks as they break, saving you a lot of time.
Description: Inventory management mod for Minecraft.
Author: jimeowan
Release date: 26th October, 2012
Filesize:
Version: v1.44
Competible: Windows, Mac, Linux.
Download Inventory Tweaks Mod 1.4.2:
InvTweaks-1.44-1.4.2.zip (135 KB)
How to Install Inventory Tweaks Mod:
• Download and install Minecraft Forge.
• Put the IV tweaks files in mods folder.
• Run Minecraft, enjoy.
Note:
* The current version of this mod is incompatible with some multiplayer servers.
* Shortcuts are not available from creative mode inventory (and may lagg).
* Make a back-up of your Minecraft before installing.
* Report any bugs/glitches in official thread.