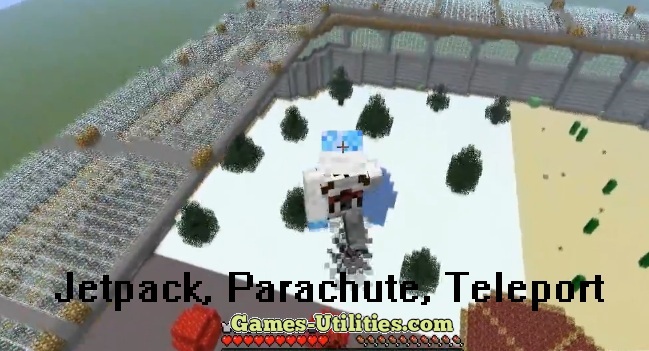 Jetpack, Parachute, Teleporter (also known as Duke605's Adventure Mod) is now available for Minecraft 1.4.7. As the modification title suggests, it adds a fully functional and craft-able Jetpack, Parachute and Teleporter in your inventory you just need to mount 'em and you're ready to go!
Description: Adventure mod that gives you wings
Author: duke605
Filesize: 23.3 KB
Version: v.1.8.9
Release date: 1st June, 2020
Download Jetpack, Parachute, Teleporter Mod:
AdventureMod v0.5.zip (mirror 1)
Parachute:
It has unlimited uses, provides you ability to fall from heights without suffering any damage. Requires 3 srings & leather for crafting.
Jetpack:
Gives you a rocket powered vehicle with 24 seconds of flight time, you can travel one place to another using it. You need 7 iron ingots, 1 coal, and 1 gunpowder to make it. Can be refueled using right-click.
Teleporter:
Gives you ability to teleport (beam away) instantly from locations. Home switch requires 7 iron ingots, 1 redstone, and 1 ender pearl and Return Tele switch 7 gold ingots, 1 redstone, and 1 ender pearl. Both items have 50 uses.
How to install this Mod:
– Download the mod zip file from the link above.
– Go to Start Menu > Run > Type %appdata%/.minecraft/bin and hit enter.
– Open Minecraft.jar file using WinRAR.
– Now open the mod zip file, go to Drag & Drop folder and move its contents to Minecraft.jar
– Copy the mods folder in ./minecraft directory.
– Delete META-INF folder and Launch Minecraft!
Note:
This mod requires Mod Loader in order to function properly.