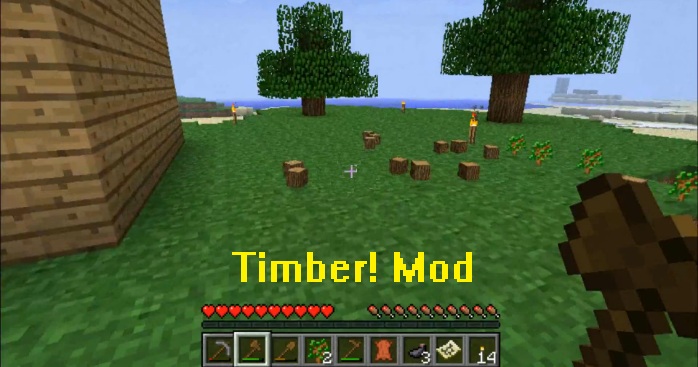 Timber! for Minecraft 1.5.2 and 1.4.7 is finally unveiled. Timber is a mod for Minecraft which lets you collect wood instantly. You just need to chop the bottom log of tree and all the wood will fall off. You can switch this function by setting a desired hotkey. This mod really helps when you are playing on mods such as The Twilight Forest and tropical maps.
Description: Minecraft mod for easily farming woods.
Author: TehKrush
Version: 1.5.2, 1.4.7
Compatibility: Windows, Mac, Linux
Release date: 4th May, 2013
Download Timber for Minecraft 1.5.2 and 1.47:

For 1.5.2: Timber! (1.5.2).zip (2.2 kB)

For 1.4.7: Timber! (1.4.7).zip (3.2 kB)
Timber Mod in action:

How to install Timber Mod Minecraft (Windows):
- Install ModLoader.
- Download the mod file from links above.
- Now paste the files in ./minecraft/mods
- Launch Minecraft, enjoy.
Note:
• Make a backup of your current Minecraft files
• Close Minecraft before installing Timber mod.